Great Eyewear and Eye Care in New York, NY
Manhattan Vision Associates serves patients from New York City – schedule an appointment today. If you have a moment, please give us your feedback about our site and your experiences with our Practice.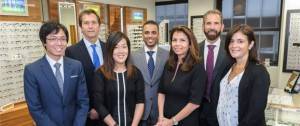 Visit our Eye Care Professionals in Manhattan
Jan 16, 2017
Make your resolution for healthy vision this year with increased awareness of the leading cause of blindness worldwide.
Read More
Dec 12, 2016
This is the one way you can be sure that you or your child's eyes are truly safe during Nerf shooting:
Read More
Really feel confident in the care at Manhattan Vision Associates. Dr. Lori Rothman is wonderful. So thorough and excellent at explaining things. When a test revealed the potential for me to develop glaucoma she re-ran the test to confirm the results (have to love her accuracy!) and then took the...
Read More