Great Eyewear and Eye Care in New York, NY
Manhattan Vision Associates serves patients from New York City – schedule an appointment today. If you have a moment, please give us your feedback about our site and your experiences with our Practice.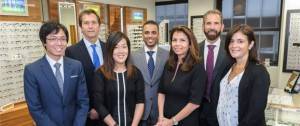 Visit our Eye Care Professionals in Manhattan
May 18, 2016
UV Awareness Month: This article might scare you, and we hope it does - just enough to motivate you to...
Read More
Apr 26, 2016
A stye (known by eye doctors as a hordeolum) is an infection of an oil gland which forms a pimple-like...
Read More
Really feel confident in the care at Manhattan Vision Associates. Dr. Lori Rothman is wonderful. So thorough and excellent at explaining things. When a test revealed the potential for me to develop glaucoma she re-ran the test to confirm the results (have to love her accuracy!) and then took the...
Read More