Great Eyewear and Eye Care in New York, NY
Manhattan Vision Associates serves patients from New York City – schedule an appointment today. If you have a moment, please give us your feedback about our site and your experiences with our Practice.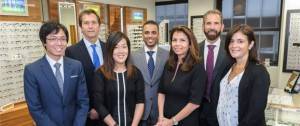 Visit our Eye Care Professionals in Manhattan
Aug 19, 2016
Since studies show that learning is 80% visual, children with untreated vision problems can really suffer when it comes to...
Read More
Jul 30, 2016
We have all seen the futuristic thrillers that use high-tech eye scanning identification systems but nowadays the technology does exist...
Read More
Really feel confident in the care at Manhattan Vision Associates. Dr. Lori Rothman is wonderful. So thorough and excellent at explaining things. When a test revealed the potential for me to develop glaucoma she re-ran the test to confirm the results (have to love her accuracy!) and then took the...
Read More